We will give you a set of tools to explore & datamine the entire internet for important leads of people and companies.
Validate all of that massive data and create sending campaigns for cold emails.
You can use data to create custom audiences in different networks to narrow your Ad audience.
We improve and update with more tools monthly.
Get an automated Lead Generation system and increase prospects today.
Building a list is very time and money consuming with different tools for different purpose.
In this membership you will find a very wide list of tools, assets and guides to thrive in your online sales journey without spending in different tools.
Data Extraction for People and Companies with Emails, Phones and More...
Multiple sources such as Linkedin, Angel List, Yelp, YellowPages, BBB, Crunchbase, Instagram, Twitter, VK, SoundCloud, FourSquare, etc... Complete data with API's from Pipl, Hunter.io, Snov.io, NinjaOutReach, LinkedIn and More

..

Create Contact Campaigns using Emails, SMS, WhatsApp, Contact Forms and More...
The Software comes with an integrated Campaign creator with different Methods for contacting, even Linkedin Message Broadcast to all connections, Yelp and more.

Powerful tools & assets to complete Data and Get valuable and strategical information.
We offer you many more tools such as Email Marketing, HTML Builder, Keyword Research, Ad Spy, Assets, Templates, Landing Pages, Banners and more.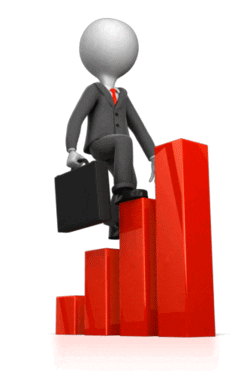 The most awesome features to convince you using Link & Grow

Get Data from ANY Network with Emails and Phones
Extract Linkedin, Instagram, Facebook, AngelList, Foursquare, etc. Verify Emails and use them to contact or narrow your audience in Google Adwords, Facebook Custom Audience, and many more PPC Networks to get Retargeting / laser targeted ads.

Many tools inside that will make your Internet marketing easier
We will provide you all the tools you need instead of paying expensive and separated tools. This is ALL-IN-ONE Membership! SAVE MONEY!

Hundreds of guides and methods. Find hours of video tutorials.
Tools without a guide are useless, we will show you the best methods to help your impact your sales. This is the best marketing we can do, HAPPY CUSTOMERS!
You wont get only Software but a wide set of guides.
You will learn how to import all scraped contacts into networks to grow them, also use them for narrowing Custom targeted campaigns on PPC networks.
It all started with a desktop software, and now it is a very wide of tools for different purposes.

Desktop Software
No limitations for scouting, set your own customizations for scraping anywhere.
Email Extraction from ANY Network.

All-in-One Tools for Online Sales
- Adwords spy - HTML Builder + Templates - Precise Lead Finders - Marketing Graphics and Assets
- Amazon Keyword Suggestion Scraper - Google Adwords Spy - Google Keyword Suggestion Tool - Semantic Extractor - Smart Backlink Building and more.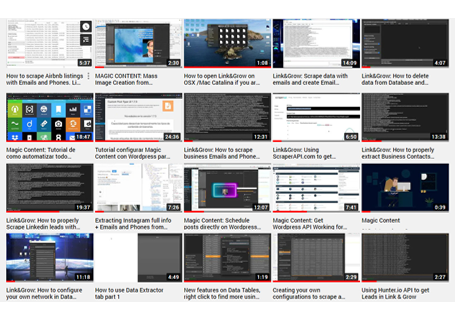 Hours of Training Material
We have many hours of training videos on different methods and how to use all the tools. We are constantly adding more Blog Posts and Videos.
A supportive community
Tools are great, but the Community is clue to learn new ways on many different niches. Customers make this tools better.

Assets, Templates and more.
Find Landing Pages, Cold Emailing Templates, Follow-ups, Marketing Graphics Banner and more!
Email Marketing Tools
Don't pay for expensive email tools with auto-responders. We will also offer you to do automatic follow-ups with no limits on subscribers. Send up to 35,000 emails per month within you subscription.
DESKTOP SOFTWARE EXPLAINED
Leads, Data Extraction , Campaigns & Automation
Leads Module
This tab is to explore the internet to get as many contacts as you can using the proper commands and combinations.
Multiple sources such as Linkedin, Angel List, Yelp, YellowPages, BBB, Crunchbase, Instagram, Twitter, VK, SoundCloud, FourSquare, Vimeo, Flickr, Craiglist, eBay, Manta, TripAdvisor, AirBnB, CouchSurfing, MerchantCircle.
This section requires you to do 2 actions before:
Get Leads to Contacts: Scrape data, which could be Leads, Linkedin profiles, companies, groups, schools or jobs, AngelList profiles, Yelp Companies and more...

Verify the Emails: use verification so you dont get flagged when contacting unexisting emails. In the video we show how to do all this steps.
Data Extractor module
Extract any network based on your XPaths configurations, the possibilities are endless.
YOU CAN BYPASS AUTH WALL FOR ANY NETWORK SO YOU GET MORE DATA.
Watch the video to see how to configure your own network at your own needs.
Once you extract the proper data, you might decide who to contact based on number of followers, subscribers, or other KPI's based on your custom needs.
Campaign module
You will be able to send Email, SMS and WhatsApp campaigns with your own configurations.
We will use Twilio API to verify Phone numbers before sending SMS or WhatsApp campaign.
We will teach you how to connect GSuite SMTP with HubSpot or other CRMs. Check the video to see a normal action of Extracting Emails and Sending.
When you contact try to study before falling into SPAM practice that might affect your reputation. We recommend doing Custom Audiences and get Opt-in Contacts as you will learn soon. Try sending campaigns doing offers to opt-in before.
Customize the Scraping
This system can be shaped on your needs, the possibilities are endless to grab data.
You will have to input the XPath fields to grab, click or input text to automate the process of lead grabbing. Set any network, doesn't matter it requires login.
It is easy once you know how to get XPath:
XPath for Text grabbing: This XPath is to complete the columns in the Profiles, Companies, etc. in the Database.

Interactive XPath Wait for elements if exist, input text in fields or even click buttons.
WEB SOFTWARE AND ASSETS INCLUDED
Keyword Research, Ads Spy, Google Maps Scraper, Email marketing and more.
Data Scout Tool
This uses state of the art SERP commands to gather the proper contact information from websites with patterns like Shopify, Write for Us -Guest Blogging, PlayStore Developers, and many more patterns added eventually.
We will be constantly researching on improving and adding more custom patterns eventually so you can find more prospects and automate your reaching campaigns.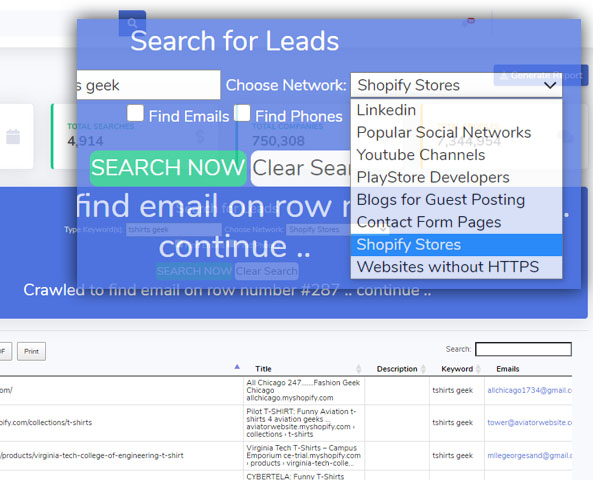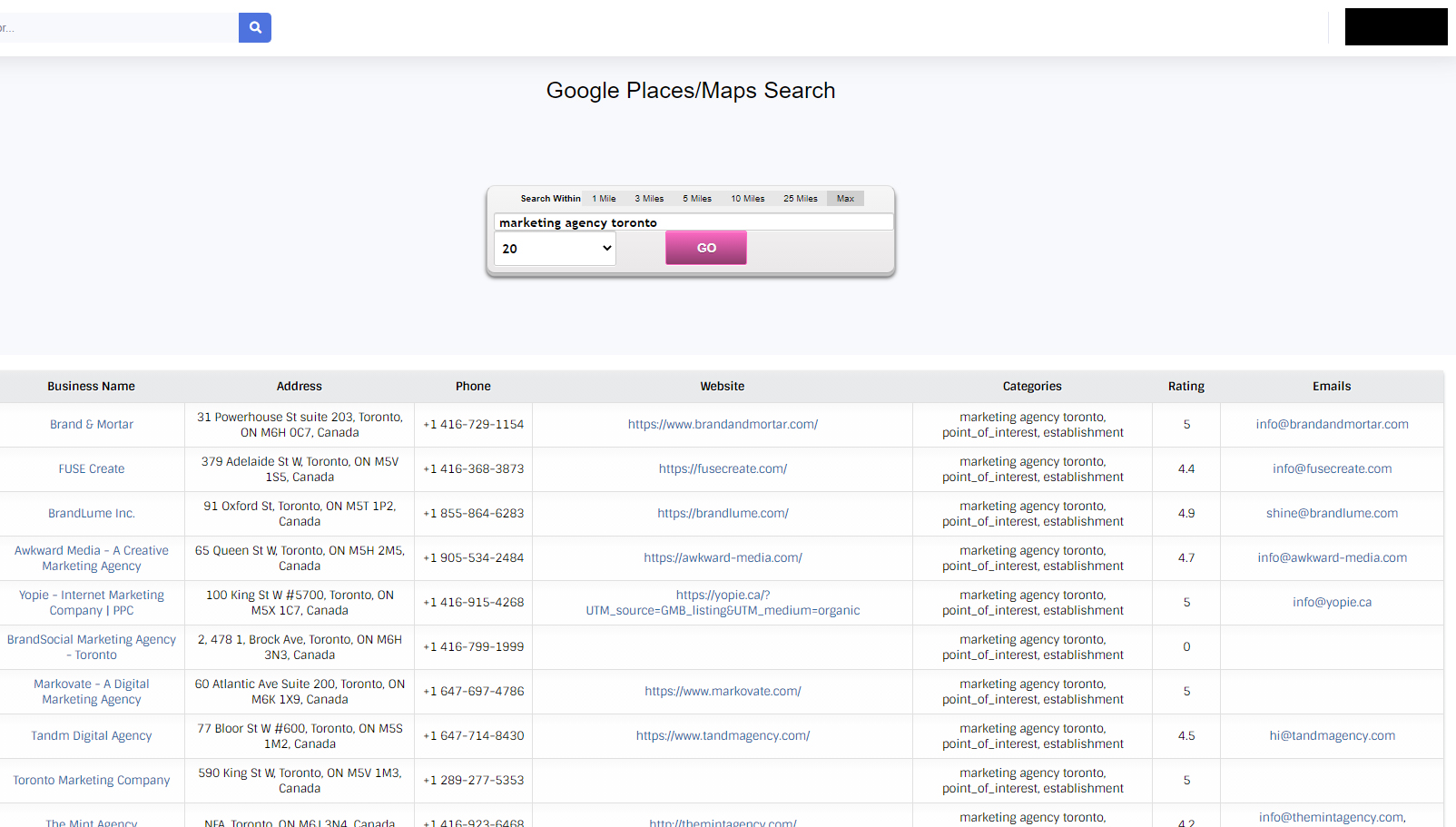 Google Maps Scraper
You will be able to scrape any location and niche on Google Maps, and with our State of the Art crawling function, we will visit each website to find Emails, Phones and Social networks.
Get Fresh Google My Business accounts on any city with their contact information. Add to your Mailing campaigns right away!
Google and Bing Ads Spy
We provide you with tools to be tracking PPC competitors campaigns in real time using SERPS on different locations.
Knowing how your competitors are selling and their copywriting tactics is priceless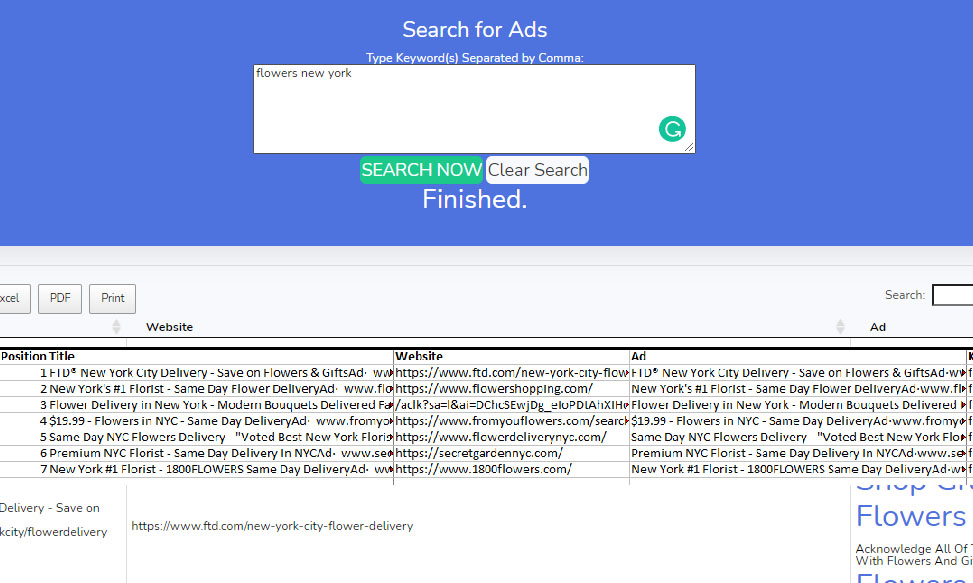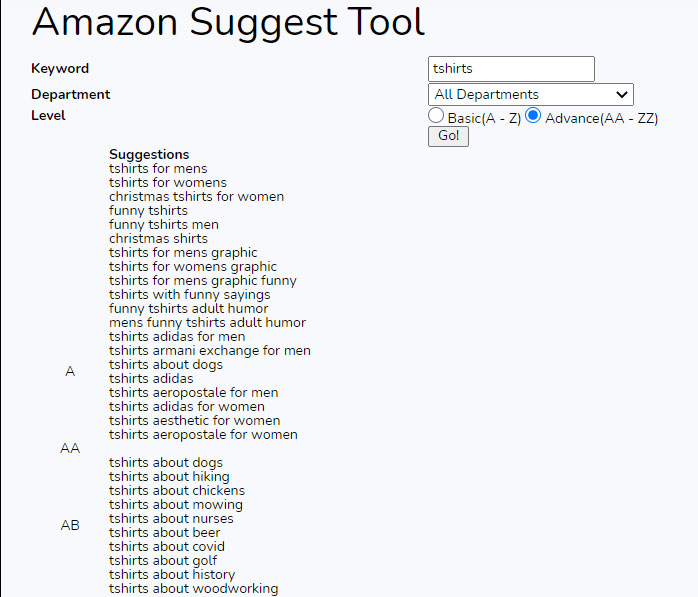 Keyword Suggestions
We have gathered tools to scrape keyword suggestions on most important networks. This is important since you will get insights of what is being trending on that specific keyword.
Find a profitable niches by exploring new trends using this KW suggestion tool.